Restaurant Jobs in Australia - Guide for Jobseekers
As a popular tourist destination, Australia receives a high volume of international traffic, meaning that popular destinations like Sydney, Melbourne, Canberra, Perth, Adelaide, Gold Coast and Brisbane are always looking for restaurant workers to meet the high demand to provide services to tourists. There are plenty of restaurant jobs for foreigners available, especially during summer season. Restaurant presence in those major cities is at a very high level.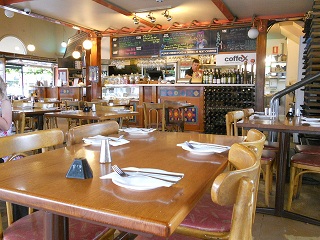 Photo by Michael Coghlan CCSA 2.0
If you are interested to start your career in a restaurant, you should know that there are very few barriers to entry into this field. You won't need formal education or work experience to get a restaurant job in Australia. The only important skill for foreigners, who want to apply for a restaurant job and work in this field, is to be fluent in English, because English is an official language in Australia.
Australia offers great job opportunities in restaurants for foreign citizens, especially for young people just beginning their careers or looking for a summer job, because restaurants in Australia are in constant demand for qualified workers to fill entry-level positions as well as mid-level positions. There are also many international student programs which include part-time job opportunities in Austalian restaurants for foreign students. Cooks and cook assistants, waiters and delivery drivers are the most in-demand restaurant jobs in Australia.
Restaurants allow consumers to avoid spending time on food preparation and to combine dining with leisure. Also, Australia draws large numbers of tourists abroad, so the restaurant scene arises with busy lifestyles and tourism development of this island country. The restaurant scene in Australia includes dozens of thousand restaurants, mostly around the coasts. There are many different types of restaurants in Australia: casual and premium dining restaurants, fast food restaurants, fast casual restaurants, ethnic restaurants, beach restaurants, brasseries, sushi and sashimi restaurants, airport restaurants, drive-through restaurants, cafés, coffeehouses, bistros, hot dog stands, sandwich bars, grill bars, truck stop restaurants, etc.
Australia is well known as a country with a great job opportunities for foreigners. If you are willing to move to Australia and get a job, work hard and earn a salary that will cover all your living expenses, it will be much easier to achieve the desired goal than in any other well developed countries.
Restaurant jobs and titles in Australia (with salaries and wages information)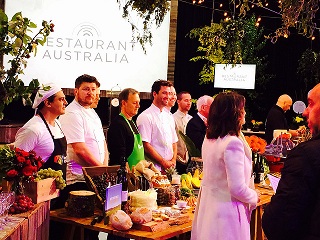 Photo by Tourism Victoria CCBY 2.0
Jobs in restaurants usually are separated between front-of-the-house and back-of-the-house positions. There are also administration jobs and management jobs in large restaurants and restaurant chains. Getting a management job in a restaurant in Australia usually means starting at the bottom and climbing the ladder or being hired with a huge restaurant work experience. 
Here's information about restaurant jobs and salaries in Australia, offered benefits for employees and necessary requirements for job seekers:
- Restaurant manager in Australia – in charge of all services in a restaurant
Kitchen manager in Australia – in charge of kitchen operations in a restaurant
Chef in Australia – create menu and recipes, prepare special dishes
- Head cook in Australia – in charge of preparing food
- Cook assistant in Australia – entry position in a restaurant for job seekers that want to become cooks
- Baker in Australia – it's not a common position for restaurants in Australia, but larger restaurants often hire a person in charge for making different baked goods
- Host / Hostess in an Australian restaurant
Food runner in Australia –supporting waiters and kitchen staff, communicate with customers
- Barman in Australia – serves alcoholic and non alcoholic beverages
- Restaurant waiter in Australia
- Cashier in Australia – hired by fast food restaurants and drive-through restaurant (pay-before-you-eat)
- Restaurant dishwasher in Australia – often an entry job for new employees in restaurant and the lowest paid job in restaurants
- Delivery driver in Australia – it's a job that requires a candidate with valid driving license. If a worker is a foreign citizen, international driving license is necessary. Work experience and formal education usually aren't required
- Warehouse worker in Australia – works in a restaurant or kitchen warehouse
- Restaurant cleaner in Australia – cleans kitchen space, restaurant halls and other restaurant areas
- Sommelier in Australia – "wine job" in a restaurant; in charge of everything about wines.
Restaurant jobs in Australia are rewarding. Restaurants in Australia tend to pay restaurant employees higher monthly salaries and wages than average, which creates a system in which bartenders, waiters or servers relies less on tips. This system creates consistent salaries for front-of-the-house employees in restaurants and provides better service for restaurant guests.
Some restaurant jobs like waiter / waitress, food runner, host or bartender is considered as the best paid jobs for employees with no previous work experience in restaurants in Australia and a great job opportunity for young job seekers looking for their first paid job or just a summer job.
Restaurant employees work an average of 40 hours per week, which is considered a typical work week and enough to provide substantial income in Australia. Wages and salaries for restaurant jobs vary by position, but as a restaurant employee in Australia you will earn a monthly salary enough to meet everyday living expenses. One meal per shift for workers is common for majority of restaurants in Australia and some restaurant jobs (especially in hotel restaurants) may include living accommodations for foreign workers, but not always.
Job seeking and job openings in restaurants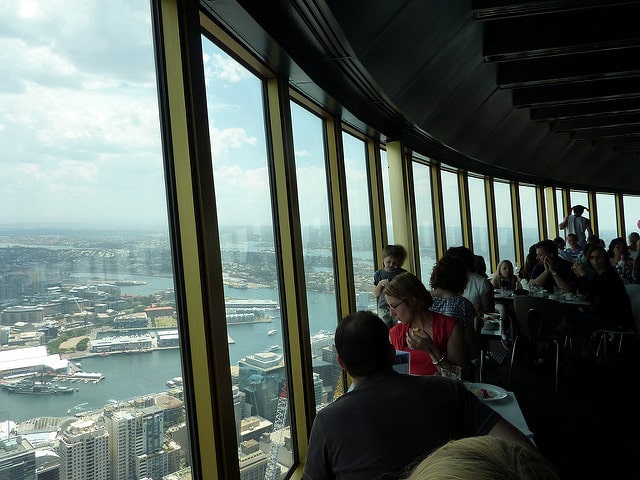 Photo by Karl Baron CCBY 2.0
Job seekers in Australia often use local classifieds, local newspapers and services of Australian hospitality recruitment agencies for hotels, restaurants, clubs, resorts, restaurant groups and cafes.
Well known hospitality recruitment agencies in Australia:
Placed Recruitment
Talent Kitchen
Pinnacle People
Benchmarque
Black Betty Hospitality Group
Hospitality Recruitment Australia – HLRecruitment
Alseasons Hospitality Staff Agency Sydney
It is a bit harder to search for job openings if you are not in Austalia. In this case, you can use job search engines and job portals for restaurant jobs in Australia, as well as restaurant websites, where job openings are also published.
Some of the well known online job search resources you can use in job seeking for restaurant jobs in Australia:
Seek – One of the leading job boards in Australia
Jobactive – Australian Government's job search engine with an employment service programmes
Adzuna – Search engine for job ads
SimplyHired, Australia
Australian Public Service jobs (APS jobs)
OneShift – Online job network in Australia and New Zealand
Don't forget that if you are in Australia, walking into restaurants and directly asking to speak to the restaurant manager about information concerning job openings, may be the most effective and the fastest way to get a job.
Sources:
GoAbroad - www.goabroad.com
LinkedIn - www.linkedin.com/pulse/international-students-australia-starting-guide-part-time-nazir/
Placed Recruitment - www.placedrecruitment.com.au
Talent Kitchen - www.talentkitchen.com.au
Pinnacle People - www.pinnaclepeople.com.au
Benchmarque - www.benchmarque.co
Hospitality Recruitment Australia – HLRecruitment - www.hospitalityrecruitment.com.au
Alseasons Hospitality Staff Agency Sydney - www.alseasons.com.au
Seek - www.seek.com.au
Jobactive - www.jobsearch.gov.au
Adzuna - www.adzuna.com.au
SimplyHired, Australia - www.simplyhired.com.au
Australian Public Service jobs - www.apsjobs.gov.au
OneShift – Online job network in Australia and New Zealand - www.oneshift.com.au