How to Find a Job in Botswana - Guide for Foreign job seekers
If you are a looking for a job in Botswana, this guide will introduce you the best approaches to find a job in Botswana. Here you will get info on popular expat cities, high demand occupations, work visa requirements and wages for non native citizens.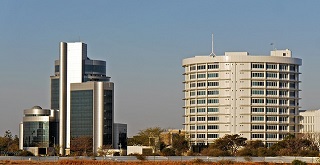 Gaborone, Botswana
A very important reason why foreigners move to Botswana is for work. They may find there more career opportunities in certain industry sectors. The second very important reason is that working in Botswana may be more lucrative for expats with good salaries and working conditions. Third reason may be one of the official languages – English, so many expacts find it easier to live and work in an English speaking country.
With its fast growing economy, mining industry, and great job opportunities for foreigners in tourism sector, Botswana is one of the most attractive countries in Africa for foreign job seekers. Other important sectors in Botswana that hire thousands of foreign job seekers are financial and insuranse sector, construction and education.
Many non-natives in Botswana are employed within those industries because that's the major driving forces behind the country's economy. Foreigners in Botswana may find a job in these sectors much easier, because there's local skilled labor shortages. Most Botswana citizens are employed by the government and in public sector.
There is often a shortage of local skilled workers for many occupations in Botswana. Here you can get important info about job requirements, pay and some benefits for following professions:
-
Miner
– diamond mining industry is very developed in Botswana. It is the main force of economic expansion in Botswana, so miner is one of the in demand occupations.
-
Mining engineers
are very important for diamond and mineral mining industry in Botswana.
-
Truck driver
Driving is the main mode of transportation in Botswana, and this kind of transportation is very important for mining industry. Transport sector has employed a great share of foreigners in Botswana.
-
Travel agents
and
Tour guides
Main safari destinations in Botswana – national parks and game reserves, attract millions of tourists from all over the world. A number of national parks and game reserves, with their abundant wildlife and wetlands, are major tourist attractions.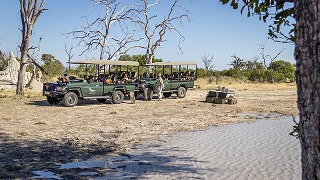 Safari trip in Botswana
-
Translator
Foreign translators usually are being employed by tourism sector in Botswana. They often participate in safari group tours and activities.
- Bus driver - in demand occupation, especially in tourism industry.
-
Construction worker
The construction sector is one of the fastest growing in Botswana, so there is a constant high demand for construction workers and civil engineers.
-
Civil engineer
- There is a lack of local labor for civil engineer jobs, so job opportunities for foreign professionals are a great chance to get a job in Botswana.
-
Hotel manager
- As one of the occupations that requires high organizational skills, employers in Botswana may rather pick foreign professionals for this job over some local candidates.
- Real Estate agent - As a real estate market in Botswana grows, real estate agents are amongst the most in-demand jobs.
-
Nurse
Many occupations in medical sector are classified as shortage occupations in Botswana. There is a high demand in hospitals and medical centers for medical staff.
-
English teacher
One of the most common professions for foreign English speaking job seekers in Botswana is an English teacher. There is a high demand for English teachers in an international private schools and universities.
Job searching and Job resources in Botswana
If you reside in Botswana and seeking for a job, the best way to get a job is to use some of the follownig resources: your network of personal contacts, services of the local staffing firms, employment publications, job fairs and career events, specialized press and classifieds in local newspapers. Employers in Botswana, especially small and medium sized companies, tend do use methods of recruitment such as direct networking and word of mouth. It is also recommended to use local job search engines in Botswana.
If you don't reside in Botswana and looking for a job in this country, the best sources for job seekers are online job portals, job boards, social networks and listings.
Leading HR and staffing agencies in Botswana are:
-Premiere
-Ado Green Recruitment
-StaffWise
-Star Recruitment, Gaborone
-HRMC
-Jotimes
-Employment Exchange of Botswana (PTY) Ltd.
There are many specialized job search portals for job seekers and job search engines in Botswana like Botswajob, Careerjet Botswana, and Jobsbotswana.info.
Keep in mind that there are some regulated occupations in Botswana, including engineers,
dentists
, therapists,
surgeons
,
veterinarians
and teachers. If you are an expat and your occupation is one of them, you will need to get right qualification recognized by the national authority in Botswana before you can start working.
Some employers in Botswana hire employees for remote jobs or arrange with some employees who started working in an office in Botswana to work from home after some period.
About Botswana and foreign workers in Botswana
Botswana is the mid-sized country in Africa with a total area of 581,730 sq km (224,610 sq mi) and a total population of about 2.3 million. Botswana is located in the Southern Africa, bordered by South Africa, Namibia, Zimbabwe, and Zambia. The official languages are English and Tswana.
From one of the world's poorest countries, Botswana has transformed itself into middle income country, with one of the fastest growing economies in the world.
The official currency is Pula, and wages and salaries are paid in this currency both for citizens of Botswana and foreign nationals.
About 7% of the population in Botswana are immigrants. Foreigners are usually attracted by the
employment opportunities in Botswana
. The majority of foreign workers resides in urban centers, such as Gaborone (economic hub and capital of the country), Francistown and Molepolole. About 70% of the population in Botswana live in metropolitan areas. The largest communities of expats in Botswana are 'White Botswana's' (3%) and Indian community.
The typical workweek in Botswana is Monday to Friday, with some stores and offices also open for a few hours on a Saturday, rarely on a Sunday. Typical work hours per week 40 hours, 14 paid public holidays and 15+ paid vacation days. Employers in Botswana may provide benefits such as housing allowance or a place to live for foreign nationals. The largest employers in Botswana are in a mining and tourism industry, agriculture and consumer services. Notable employers are: Debswana, Botswana Railways, Mack Air, Choppies, Mascom, Mmegi, Air Botswana, Letshego Holdings Limited and Bank of Botswana.
How to get work visa for Botswana
In order to work in Botswana foreigners have to obtain work permit before departure. Work visa and valid passport are required to work in Botswana. The duration of the work visa depends on the duration mentioned by the sponsoring company in an invitation letter (maximum 6 months). It is recommended that work permit applicant ask correspondent in Botswana for the maximum validity possible.
Required documents to obtain work permit for Botswana are: certified copies of valid passport, 2 coloured passport size photos, work application, job offer / appointment letter from the Botswana employer, Curriculum vitae (CV), and Medical report. Employer (sponsor) should prepare following documents: Proof of the attempt to recruit Botswana citizen, required candidate requirements, contact details, and proof of job advert.
Keep in mind that the process to obtain work visa takes 7-14 days and costs about $100-$150.
Sources:
Government of Botswana
https://www.gov.bw/visa-applications/visa-application-employment-visa
Jobs Botswana -
Jobsbotswana.info
Africa Work -
www.botswajob.com
CareerJet Botswana -
www.careerjet.co.bw/
Botswana Youth Magazine -
https://www.botswanayouth.com/category/employment/
Wikipedia -
Economy of Botswana