The best companies to work for in Brazil
Article will introduce you the best companies and enerprises to work for in Brazil.
These companies are engaged in a various businesses: wholesale and retail, car and aircraft manufacturing, pharmacy, electronics, health care, banking and finance, logistics, etc. Companies from these lists employs tens of thousands workers in Brazil and always offer salaries and other benefits at a higher level than average for their employees in Brazil.
Here you can get more information about salaries, benefits, working conditions and requirements for over 300 professions in Brazil:
Professions and occupations in Brazil – Wages, Benefits, Requirements, Working time and Paid leave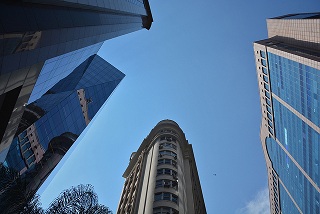 Business district – Rio de Janeiro
Indeed's List
Top rated workplaces in Brazil according to Indeed are shown in a list below. This employment-related search engine use criterias relevant for job seekers, such as workplace attributes, employer's rating, industry and geographical area, to make this list.
The best companies to work for in Brazil based on employer ratings and reviews on Indeed:
1. Volvo
- Production, distribution and sale of trucks, buses, cars and construction equipment.
2. Banco do Brasil
- banking and financial services
- state owned financial institution
3. Caixa Econômica Federal
- banking and financial services
- state owned financial institution
4. Ford Brasil
- subsidiary of American car manufacturer Ford Motor Company
- company's automotive brands include Ford and Lincoln
5. Caterpillar
- machinery manufacturer
6. Banco do Nordeste
- banking and financial services
- the largest regional development bank in Latin America
7. Mercedes-Benz
- luxury car manufaturer
8. Jabil Circuit
- electronic manufacturing services and solutions provider
9. ZF Do Brasil
- Production and sale of steering systems, axles, chassis components, and complete systems for commercial vehicles and cars
10. Cargill
- American provider of food, agriculture, and industrial products
- Subsidiary headquartered in São Paulo, employs about 6.000 workers in Brazil
11. Brasal Refrigerantes
- Coca Cola manufacturer in Brazil and soft drinks manufacturer
12. DHL
- logistics company and international courier, and express mail services provider
13. Schlumberger
- oilfield services company
14. Archer Daniels Midland
- processor of oilseeds, corn, wheat and cocoa
- Archer Daniels Midland (ADM) has four main business units in Brazil: Oleagenasas, Corn, Ag Services, and Wild Flavors and Specialty Ingredients unit
- ADM employs 4.000 people in Brazil
15. BASF
- German chemical producer has operating unit in Brazil
16. Hospital Israelita Albert Einstein
- one of the best hospitals in the Latin America
17. Baker Hughes Incorporated
- oil field services company, part of General Electric
18. ARCOM
- Wholesale distributor and exclusive representative of Energizer products, Eveready, Bananaboat, Dentil, ACDelco, Schick, Trim, Winner and more
19. Arcelor Mittal
- steel manufacturing corporation
20. Embraer
- third largest producer of civil aircraft, after Boeing and Airbus, also producer of military, and agricultural aircraft
- company also maintains industrial units, offices, service centers and parts distribution, among other activities
21. Bosch
- German multinational engineering and electronics company operates in Brazil
22. 3M
- production facility of an American conglomerate that produce abrasives, adhesives, tapes, consumer, automotive, and health care products
- about 1.900 employees in Brazil
23. Panpharma Distribuidora de Medicamentos
- wholesale distributor of pharmaceutical products
24. Grupo Boticário (O Boticário)
- Brazilian cosmetic company; O Boticário is the largest cosmetic franchise in the world
- It has over 4.000 stores in 10 countries
25. AkzoNobel
- producer of basic and industrial chemicals, and decorative paints
LinkedIn's List
According to LinkedIn, the "Top Companies" list below shows the top rated employers and best workplaces in Brazil. The list is based on feedback from LinkedIn's users. To make this list, following actions have been monitored: job demand, interest in the company, engagement with the company's employees, and employee retention.
These are the best companies to work for in Brazil, according to LinkedIn:
1. Itaú Unibanco
- the largest private bank in Brazil
- offer flexible working time and work from home option for a test group of employees
2. UOL
- the largest Portuguese speaking portal and one of the most visited websites in Brazil
3. Unimed
- Brazilian medical work cooperative and health insurance operator
- employs more than 100.000
medical doctors in Brazil
4. Lojas Renner
- the largest Brazilian retail chain of clothing departments
5. GPA
- second biggest retail company in Latin America engaged in business retailing of general merchandise, food, home appliances and other products
6. Bosch
- German multinational engineering and electronics company has its operating unit in Brazil
7. TOTVS S.A.
- Brazilian software company with offices in the United States, Portugal and Latin America
8. Nestlé
9. Raízen
- the largest Brazilian energy company
- Company has a network of more than 7.000 fuel stations under the Shell brand spread throughout Brazil and Argentina
- Thousands of
fuel station attendants across Brazil
and Argentina are hired by this company
- Raízen also has 26 plants that produce ethanol, sugar, and bioenergy
10. Sírio-Libanês Hospital
- one of the most well-known hospitals in Brazil
11. Pepsico
12. Danone
- Danone operates in Brazil in the businesses of fresh dairy products, early life nutrition, specialized nutrition and waters
13. Accenture
14. Natura
15. LATAM Airlines Brasil
- Brazilian brand of LATAM Airlines group from Chile
- The largest airline in Brazil
16. AmBev
- the largest Brazilian brewing company
17. Whirlpool Corporation
- Company's subsidiary in Brazil has 3 plants, 4 technology centers and 23 laboratories
- Whirlpool in Brazil own the brands Brastemp, Consul and KitchenAid
18. IBM
19. Johnson&Johnson
20. Walmart Brasil
- American Walmart Inc. holds only 20% in Walmart Brasil
- Walmart Brasil operates under the banners Nacional, Bompreço, Todo Dia, Walmart Supercenter, Hipermercado Big, Hiper Bompreço, Maxxi Atacado, Sam's Club, Mercadorama, Walmart Posto (Gas Station), Supermercado Todo Dia, and Hiper Todo Dia
21. Banco Santander Brasil
- Subsidiary of Banco Santander - multinational commercial bank and financial services company based in Spain
22. L'Oréal
- One of the largest cosmetics companies in the world has its subsidiary in Brazil
23. KPMG Brasil
- network of small firms that provide services such as auditing, finance and tax consulting, and other business consulting services
- has offices in 22 Brazilian cities
24. Deloitte Brasil
- Business consulting company - Financial and Risk advisory, Professional audit, Tax consulting
25. Sanofi
- pharmaceutical company from France has its subsidiary in Brazil (former Medley Farma, acquired in 2009.)
Being an employee of one of these companies usually means that you will have salary over Brazilian average, great career and pension plan, good work-life balance, paid time off and much more.
Sources:
Indeed
LinkedIn